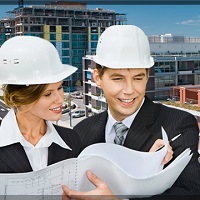 Owning real estate is a lifetime dream for many of us. So having an option of affordable property construction can help us fulfill this lifelong aspiration. There are various factors to consider when it comes to constructing an affordable property otherwise constructing a property can become an expensive investment. Construction of property includes multiple building and construction costs. Here listed below are different costs that are incurred in building an affordable wealth.
• Plot Cost: This is a crucial element to consider when you want to build affordable property construction. First and foremost check the government regulation whether your chosen land is available for constructing a private property. Secondly, check the level of the plot as per the road level on the front. If the road is on the lower level you would need more material to bring it up to the road level, thereby increasing the overall cost of construction. Therefore chose a plot according to your present as well as future requirement.
• Design Costs: A professional will help you save money on construction, so never shy away from hiring them. They will help you optimize the overall cost of the design of the property. An adept architect will help you save money on materials and from the recurring maintenance costs. He or she will have a detailed design plan, so that is no confusion or misrepresentation of information on-site and the flow of work is smooth on the construction site.
• Liaisoning Costs: These costs include fees for government approval for government land surveys, plan approval, etc. Make sure that you have all the government approval before you start construction on your property. These will save you from lots of stress and money later.
• Material Procurement Costs: Material procurement costs make a significant impact on the budget when it comes to building affordable properties. These costs include buying building material such as cement, brick, tiles, sand, steel, etc for construction of the property. The best way to reduce material costs is by buying materials locally. But that does not mean you compromise on quality. Instead of going overboard with the design of the property chose simple designs that will help you reduce the material cost.
• Labour Costs: Structure construction, plastering, brickwork, etc are all labor costs. From finishing work to landscaping costs all are included in the labor cost. Make sure you hire an experienced contractor so that you save both money and time. Trained professionals will ensure quality service and will help you to finish the construction in the stipulated time frame. Hiring an expert will ensure that you get a property that gives a luxurious look without burning a hole in your pocket.
Keeping the updated market information on these costs is also important. There are many affordable property constructions in Badlapur, Thane where customers can find suitable properties with an affordable investment option.
These construction companies help their customers to complete their real estate projects in the expected time frame and are also cost-effective. So book these affordable property construction companies to fulfill your lifetime dream of owning a real estate at an affordable price.